The festive season of Diwali is around the corner. From King Rama's heroic return to Ayodhya to demon king Ravana's demise in Lanka, one common theme rings true in all legends - the festival of lights marks the triumph of good over evil, and light over darkness. We have gathered a list of places that hold spectacular Diwali celebrations which you will not want to miss!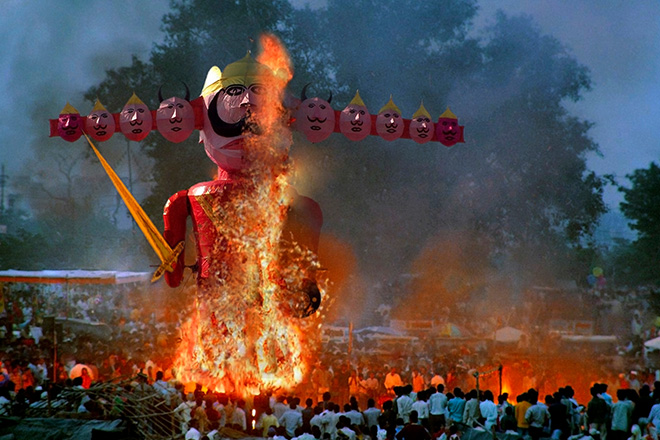 Among several legends that revolve around this auspicious day, one that lives on with the people of Goa is Lord Krishna defeating the demon Narakasura, signifying light always wins  over darkness. Locals build larger than life demons, fill them up with firecrackers, paper, and grass, and parade them around town before burning them in the wee hours of the night, the day before the main festival. 
Villages conduct competitions on who can erect the scariest and biggest figure of them all. Locals also undertake spring cleaning to usher in the new year, exchange gifts and sweets, decorate their houses with multi-coloured lights, and create rangoli (colourful artworks) on the floor using powder, rice and flowers, which are associated with bringing good luck. 
2. Kuala Lumpur, Malaysia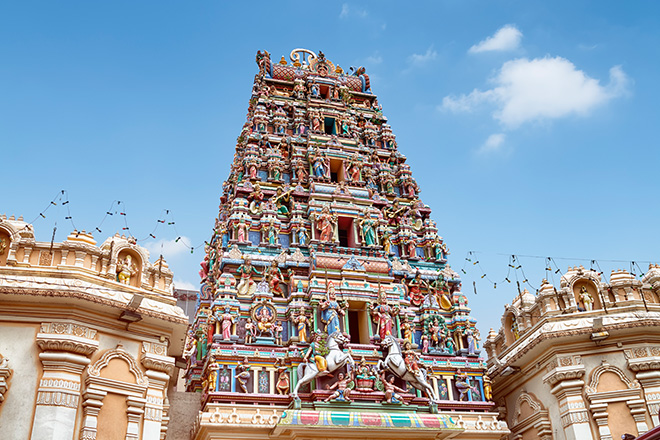 Diwali, known as Hari Diwali in Malaysia, is celebrated amongst the large Hindu community that resides here. The festivities begin with bathing in oil before dawn, followed by prayers and gathering with family and friends. People bathe their houses in elaborate displays of lights and array of oil lamps outside their doorstep. 
For a more traditional experience, visit Sri Kandaswamy Kovil Hindu Temple or Sri Mahamariamman Temple to partake in enchanting ceremonies and prayers.

Reminder: All attendees are advised to dress modestly to temples.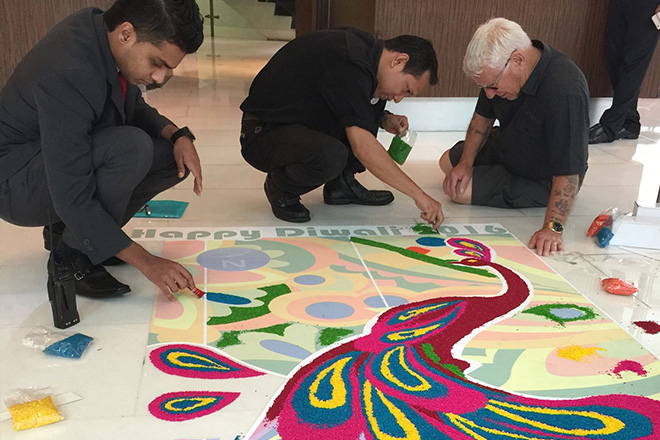 To take your Diwali experience in Kuala Lumpur one step further, we recommend you stay at
Novotel City Center Hotel
. The staff and team at the hotel look forward to the yearly celebration and prepare accordingly. Various traditions, such as appropriate decorations, are brought to life to ensure you don't miss out on the Diwali festivities during your stay. Pictured above is Novotel guests participating in creating Kolam decorations.
3. Little India, Singapore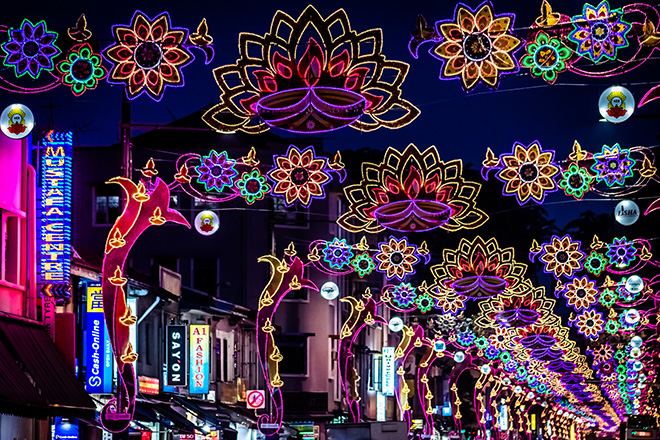 Flock to Little India to witness the monumental light installations that spring about this time of the year to commemorate the start of this zealous festival.  Roam through the many bazaars selling sweets, clothes, decorations or sit back at a cafe to enjoy the beauty of the stunning light display. 
To celebrate it like the locals, join in the Silver Chariot procession where Hindu devotees carry an effigy of the goddess Sri Drowpathi Amman seated in a decorative silver chariot from Chinatown to Little India.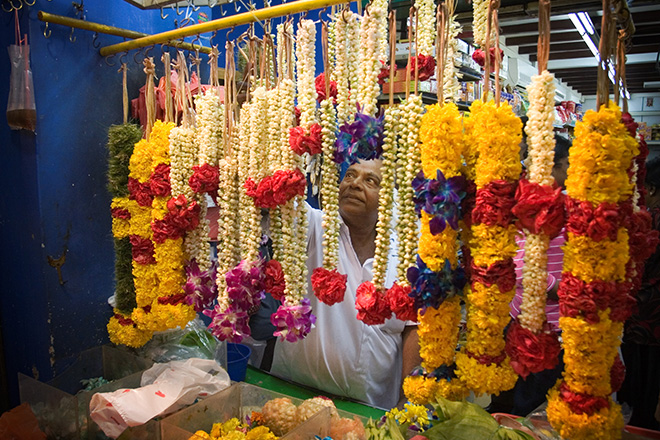 Stay close to the Diwali celebrations and the city center alike by making a reservation at
Ibis on Bencoolen Hotel
. Only 9 minutes from the Little India bazaar and other Diwali hotspots, there is no better location. Pictured above is a garland stall in Little India.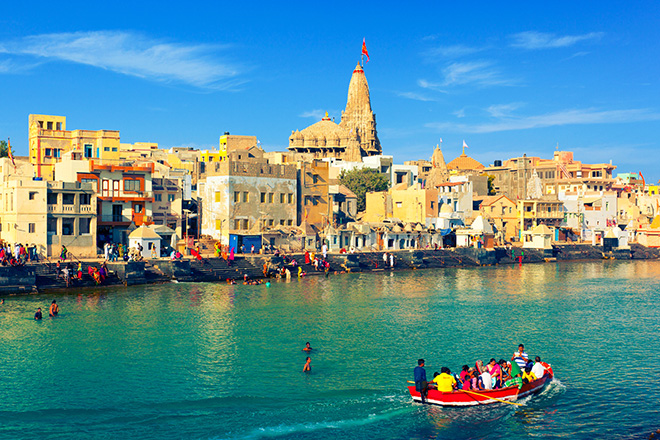 In most regions of India, Diwali is celebrated for two to five days and national holidays are either on the main day and/or the second. In Gujarat, celebrations can last for a week and the full five days are state holidays. 
The region holds traditions that go on after Diwali as well. In Gujarat and other Hindu communities in Northern India, Diwali signifies the beginning of a new year. Therefore, the day after Diwali is named Annakut, the first day of the luni-solar calendar. Traditionally in Gujarat, Annakut is celebrated by going out and showing appreciation for the essentials that make life 'good'. This includes buying staple goods such as salt, visiting temples and praying to Krishna. However, before the day time traditions begin, the new year is brought in by bursts of firecrackers at 4am. 
Located in the Devbhumi Dwarka district of Gujarat and situated along the coastline, we recommend you stay at
Mercure Dwarka
. Situated near the popular Dwarkadhish Temple and Nageshwar Temple amongst countless others, it is perfect for staying close to Diwali hotspots.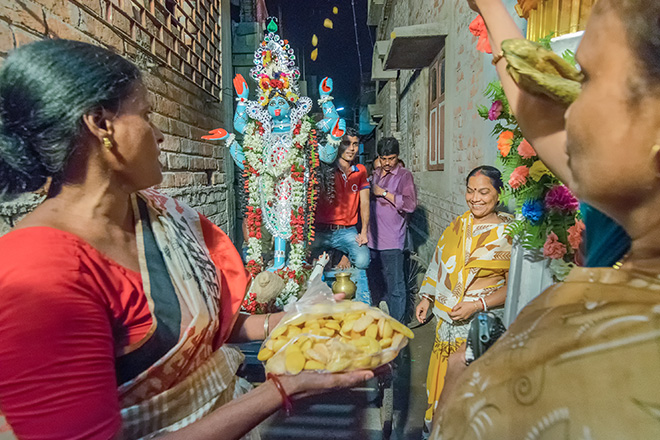 Kolkata has its own version of Diwali. In most parts of India, Diwali is associated with the goddess' of wealth, wisdom and luck, such as Goddess Lakshmi. In Kolkata however, the celebration is for Goddess Kali. The Kali Puja in Kolkata is brought in by lighting up candles and decorating with colourful bulbs and diyas. Celebrations start the day before to bring the special day in at midnight. On the day, Kali temples such as the Kalighat of Kolkata fill with devotes from across the globe. 
Recently opened, the
Swissôtel Kolkata
will provide you with a luxurious and comfortable stay during during your time in Kolkata.