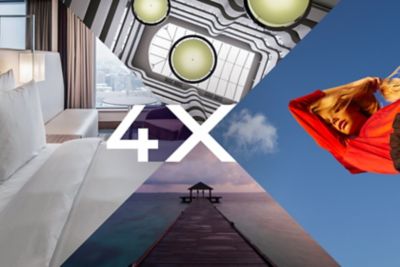 Conditions of sale
1. General ALL terms and conditions apply to the Reward Points x4 New Hotels offer and you must be a ALL member to  benefit from it.
2. To take advantage of this offer, ALL loyalty programme members must register for the offer (between 16/10/2023, through 11:59 p.m. Central European Time (CET), 17/12/2023) by clicking on the 'Register now' button above and then following the instructions. Only bookings, which have been made after successful registration via the log-on button are eligible for this bonus offer.
3. This offer entitles ALL members, regardless of their membership status, to multiply the Reward points they earn by 4 when staying at any hotel that has enrolled to participate in the ALL loyalty programme.
Points are earned based on the value of points credited to the member by the hotel following an eligible stay, in accordance with the ALL general conditions of use and based on Classic status. On completion of the stay, points will be credited to the member's account in two separate transactions:
1/ the points corresponding to the value of points that the ALL member would have been awarded had they not subscribed to the offer will be credited to the member's account in the first transaction; and
2/ the additional Reward points earned by subscribing to the offer will be credited to the member's account in the second transaction, corresponding to the number of Reward points the ALL member is still owed in order to have been credited the total number of Reward points multiplied by 4 on completion of the two points credit transactions.
For example, a ALL member who earned 250 Status points and 250 Reward points for an eligible stay will receive:
An additional 250 Reward points for offers multiplying the points X2
An additional 500 Reward points for offers multiplying the points X3
An additional 750 Reward points for offers multiplying the points X4
This offer can be used only 1 per member during its validity period. The first stay booked and completed following registration for the offer is eligible for the Reward points credit, as per the offer conditions.
4. This offer is valid for a member's stay from 16/10/2023 to 28/01/2024 in one of the participating hotels (Mercure Alger Palais Des Congres, Peppers Manly Beach, Mercure Sydney Blacktown, Mercure Melbourne Southbank, ibis budget Brugge Jabbeke, ibis Styles Bredene, ibis Presidente Prudent, Novotel Xi'an Aden, Novotel Nantong Development Zone, Novotel Linfen Mount Yun, Angsana Chengdu Wenjiang, Dhawa Xi'an Changba, Dhawa Jinan Daming Lake, Novotel Kinshasa La Gombe, Mövenpick Hotel Tallinn, Aparthotel Adagio Paris Buttes Chaumont, Aparthotel Adagio Toulouse Centre La Grave, Greet hotel Castets Cœur des Landes, ibis Styles Lille Neuville en Ferrain, ibis Golfe de Saint Tropez, Domaine Reine Margot Paris Issy MGallery Collection, Cures Marines Hotel & Spa Trouville MGallery, Mama Shelter Dijon, Mercure La Rochelle Vieux-Port Hotel, Mercure Biarritz Centre Plaza Hotel, Tbilisi Philharmonic by Mercure Hotel, Atomis Hotel Munich Airport by Mercure, ibis Styles Bielefeld, Grand Mercure Agra, ibis Styles Goa Vagator, Novotel Yogyakarta International, Airport Kulon Progo, Homm Saranam Baturiti Bali, ibis Yogyakarta International Airport Kulon Progo, Mercure Pangkalan Bun, ibis Palembang Sanggar, ibis Styles Tokyo Ginza East, Mantis Soanambo Hotel And Spa, ibis PJCC Petaling Jaya, SO/ Maldives, The Sebel Wellington Thorndon, Sofitel Auckland Viaduct Harbour, Mercure Conacul Cozieni, Fairmont Ramla Serviced Residences, Shaden Resort Al Ula, Lamantin Beach Resort and Spa managed by Accor, Pullman Singapore Hill Street, Pullman Cape Town City Centre, Andaman Phuket Beach Resort – Handwritten Collection, Mövenpick BDMS Wellness Resort Bangkok, Novotel Rayong Star Convention Centre, Mövenpick Diyarbakir, ibis Istanbul Airport, Rixos Bab Al Bahr, SO/ Uptown Dubai, ibis budget Manchester Airport, Raffles Boston, Novotel Living Saigon South, Angsana Ho Tram, Dhawa Ho Tram, Mbano Manor Hotel Victoria Falls By Mantis), and booked between 16/10/2023, through 11:59 p.m. Central European Time (CET), 17/12/2023. The stay must be a minimum of one (1) night.
6. Any consecutive stays (check-out and check-in same day) in the same hotel, will be considered as a single stay. This single stay will be eligible once on the Reward Points x4 New Hotels offer.
7. For the purposes of this offer, a stay is understood to be one (1) booking by a ALL member for one or several rooms. In other words, bookings that include more than one (1) room will be counted as just one (1) stay. The earlier check-out date is counted while the credit of Reward and Status points is calculated. In other words, a ALL member will receive eligible points and nights for the room which he/she vacates first.
8. To be eligible for this offer, stays must be booked directly via Accor (via the official Accor websites, the ALL mobile apps, the Accor call centre, directly at a hotel) or through a traditional travel agency whose booking system is automatically connected to the Accor booking office. Stays booked via a reseller, tour operator or third-party online travel agent (such as expedia.com, booking.com, etc.) will not be eligible for this offer.
9. You must provide your ALL Loyalty card number when making your reservation, and present your card at the hotel reception desk when you check-in for your stay.
10. The ALL Reward points will be credited to the member's account within 10 days of the member checking out.  
11. This offer is subject to availability. General sales terms and conditions apply for reserved public rates specific to each hotel. 
Stays at onefinestay are not eligible for this offer. 
12. Please specify the reference 006126 in all your communications with ALL call centers or customers care services related to this offer.
13. Accor, participating hotels and/or partners of this offer accept no liability for non-performance or unavailability of the offer due to an external and unavoidable event that makes performance by Accor, participating hotels and/or partners of this offer impossible or disproportionately burdensome. Customers or members will not be entitled to any compensation and the benefits of the offer (particularly Reward points) will not be issued/credited if the offer cannot be implemented in these circumstances.
Discover our brand new hotels
Offer ends in
Offer has ended
To boost your points, activate this deal.
More information
Discover our new hotels in signature ALL - Accor Live Limitless style.

To celebrate a new hotel or mark the re-opening of your favourite hotel, we're sweetening your stay with an exciting offer, just for members of ALL.  

Book your next adventure in one of the hotels from the list on this page and get 4X Reward points on your next stay!

We look forward to welcoming you.

Want to boost your points? It's easy! 
1. Log in to your account and register for the offer. 
Not a member of ALL? Join now to enjoy a huge range of benefits! 
2. Book your stay before 17/12/2023
3. Stay at one of our hotels before 28/01/2024 
4. Earn 4x Reward points and boost your balance! 
Participating hotels
ALGERIA
Mercure Alger Palais Des Congres 
AUSTRALIA
Peppers Manly Beach
Mercure Sydney Blacktown
Mercure Melbourne Southbank
BELGIUM
ibis budget Brugge Jabbeke
ibis Styles Bredene
BRAZIL
ibis Presidente Prudent
CHINA
Novotel Xi'an Aden
Novotel Nantong Development Zone
Novotel Linfen Mount Yun
Angsana Chengdu Wenjiang 
Dhawa Xi'an Changba 
Dhawa Jinan Daming Lake
REPUBLIC OF CONGO
Novotel Kinshasa La Gombe
ESTONIA
Mövenpick Hotel Tallinn
FRANCE
Aparthotel Adagio Paris Buttes Chaumont
Aparthotel Adagio Toulouse Centre La Grave
Greet hotel Castets Cœur des Landes
ibis Styles Lille Neuville en Ferrain
ibis Golfe de Saint Tropez
Domaine Reine Margot Paris Issy MGallery Collection
Cures Marines Hotel & Spa Trouville MGallery 
Mama Shelter Dijon
Mercure La Rochelle Vieux-Port Hotel
Mercure Biarritz Centre Plaza Hotel
GEORGIA
Tbilisi Philharmonic by Mercure Hotel
GERMANY
Atomis Hotel Munich Airport by Mercure
ibis Styles Bielefeld
INDIA
Grand Mercure Agra
ibis Styles Goa Vagator
INDONESIA
Novotel Yogyakarta International Airport Kulon Progo 
Homm Saranam Baturiti Bali 
ibis Yogyakarta International Airport Kulon Progo
Mercure Pangkalan Bun
ibis Palembang Sanggar
JAPAN
ibis Styles Tokyo Ginza East 
MADAGASCAR
Mantis Soanambo Hotel And Spa
MALAYSIA
ibis PJCC Petaling Jaya 
MALDIVES
SO/ Maldives
NEW ZEALAND
The Sebel Wellington Thorndon
Sofitel Auckland Viaduct Harbour
ROMANIA
Mercure Conacul Cozieni
SAUDI ARABIA
Fairmont Ramla Serviced Residences
Shaden Resort Al Ula
SENEGAL
Lamantin Beach Resort and Spa managed by Accor
SINGAPORE
Pullman Singapore Hill Street
SOUTH AFRICA
Pullman Cape Town City Centre
THAILAND
Andaman Phuket Beach Resort – Handwritten Collection 
Mövenpick BDMS Wellness Resort Bangkok
Novotel Rayong Star Convention Centre
TURKEY
Mövenpick Diyarbakir
ibis Istanbul Airport
UNITED ARAB EMIRATES
Rixos Bab Al Bahr
SO/ Uptown Dubai
UNITED KINGDOM
ibis budget Manchester Airport
UNITED STATES
Raffles Boston
VIETNAM
Novotel Living Saigon South 
Angsana Ho Tram 
Dhawa Ho Tram 
ZIMBABWE
Mbano Manor Hotel Victoria Falls By Mantis